We are happy to announce the second coin in our Canadian coin series that continues with the Beautiful aboriginal art by our friend Quenton Harris. (Same artist as the artwork on the 2009 BCGA Dreamcatcher coin!)
Inspired by his art we created this coin we simply call: Life.
This coin is our 2011 version of our Canadian coin series and we are proud to release it just after Canada Day (July 1st).
Personally, I (boomerangpapa), chose to work with this particular art as I was inspired by the birth of my second daughter, Chloe, on New Years Day! As it got a little busy, we decided to release this coin during the summer. Now that we have caught up with things and are really enjoying Life
This years coin comes in 4 flavors: Antique Copper with a turquoise gem, Polished Silver with a Paua Shell gem and Black Nickel with a deep crimson red enamel along with a Paua Shell gem. The 4th version will be released soon by our reseller as they have created a special UK Edition with some nice features that I will let them announce!
(forgive the pictures as I really need to learn how to take good close ups!)
LIFE 2011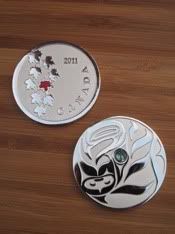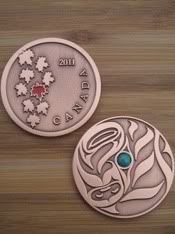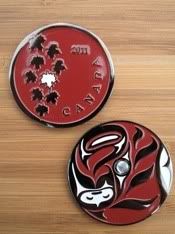 Some coins specifics:
-1 5/8" diameter
-3mm thick
-Trackable on geocaching.com (tracking phrase and number on the edge
)
-Unique Icon (to be revealed shortly)
-Genuine semi-precious gemstones (turquoise on the copper, paua shell on the others)
Only $10 each!
Checking on shipping prices today to make sure but I expect due to the size of the coin that the shipping charges will be better than our last larger coin due to less weight! Tentatively $3.00 for 1-2 coins, $6.00 for 3-5 coins USA and Canada. International orders welcome and will be quoted upon order.
Also check our website for more coins and items that we have in stock at
www.joecacher.com
Thanks for looking!